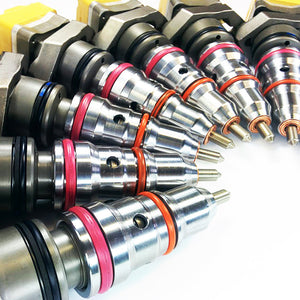 Unlimited Diesel Performance Injectors
USA CUSTOMERS PLEASE CONTACT BEFORE ORDERING OFF WEBSITE.
Email: info@sdkperformance.ca or Call: 1-604-539-5590
Shipping and Core Return Label included in Price.
Each Unlimited Diesel Performance Powerstroke fuel injector:
Includes NEW Tungsten coated Plunger & Barrel assemblies
Inlcudes NEW Nozzles
Has o-rings replaced, and new nozzle springs installed
Solenoids are all inspected for proper resistance
Cores thoroughly cleaned using a Pro Ultrasonics cleaning unit for a super clean injector body.
Injector clearances reset to proprietary specs
Is bench tested at a full range of RPMS and oil pressures
Is backed by Unlimited Diesel's limited lifetime warranty
*Fuel injectors are sold in sets of 8.